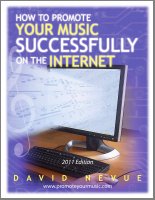 It's been a while since I posted but I wanted to let everyone know that David Nevue's Best Seller "How To Promote Your Music Successfully on The Internet" has been updated and is packed with gems. I just downloaded the latest edition today and it's good to see that after 3 years (when I originally purchased the book) that the content is right up to date and well worth the read.
If you have not heard of David's book
you can check it out here.
In this book you will learn the promotion methods this musician uses to bring in over $5000 a month from the Internet. You can discover how to get radio play, grow a fan base, create a distribution channel and manufacture and sell CDs all online. Imagine how many CDs you'd sell if thousands of people heard your music every single day? You could use the Internet to sell 100, 200 or even more CDs every single month. (Yes, this is possible!) David has accomplished this and more, and in this 2011 edition of his book, he details step-by-step how he finally said good-bye to his day job and starting spending more time on his music.
Go and grab a copy and kick off your music career today.